Amy Goodman Jaeger:
I don't guess I have any special, specific memory of Sallie, but what I do remember was how nice she was. She always smiled, and could be quite shy. She was just a very, very sweet person.

Tommy Stancil:
We grew up in the same area and had a lot of the same friends during school. It was not unusual for about five to eight of us to pile up in her car or one of the other cars and go to lunch. I know me, Tracy, Mary Ann, Sallie and others would just load up and go. We always thought we would get pulled because we had so many in the car but we never did. I had not seen her in a few years but my heart just sank when I found out it was her. I was looking in my senior year book where she signed and she said I was an 'unusual person' and I had to laugh. That was Sallie, with her quick humor. She will be missed.
Randy Blalock:
What I remember the most about Sallie was her smile. It seemed she never stopped. we rode the same school bus for years. I remember her when she first started school, at the bus stop in front of their house. She was tiny blonde and smiling. As a senior she had the same smile. I am really sorry for what has happened.
J.W. Ingram (husband of Mary Ann Kyles Ingram):
In reference to your request for background information on Sallie, I do not know if Mary Ann will be able to provide any stories right away as she and all of us are upset over this tragic turn of events. However, this is what I can tell you about Sallie:
I first met Sallie over 20 years ago as she and my wife, Mary Ann Kyles (Ingram), graduated from Garner Senior High School. My best memories are not from twenty years ago but from the past year. Several times over the past year Sallie would visit us when she was in Monroe for work duties. She would stay in a hotel in Matthews near our home in Mint Hill. Evenings after work she would come to visit. Most times she would provide supper for all of us. No small bill with six children at home. She would usually bring in pizza in one hand and her diet pepsi in the other. She had a smile that would light up a room with an easy going demeanor that put people around her at ease. Her heart was so big it radiated warmth. Sallie did not have children of her own. You would never know based on how natural she was around our children. She would take time to not only talk to them but listen to them as well, play games with them, even jump on our trampoline with them. And our children adored her. She was a "neat" and "fun" grown up. I couldn't agree more. She certainly was that. I never knew her in her work environment. I do believe she was a true professional and a honest hard working person. The Insurance Department and the State of North Carolina should be proud to have an employee this dedicated and professional working for the citizens of this state and not in private business. To most of Charlotte she was that "insurance auditor from Raleigh" that went missing and turned up murdered. But we knew her, and remember her, not as a victim of senseless crime, or a murder statistic, or just another sad and heartbreaking news story. We remember her as our friend and we will miss her very much.
Donna Jones Combs:
The thing I remember most about Sallie was her warm heart to creatures great and small and her bubbly, upbeat personality. In her presence, the negativity of the world in general melted away into a calmness.
(Donna additionally shares this quotation by Mother Teresa: "Kind words can be short and easy to speak, but their echoes are truly endless.")
Tracy Jane Rowe Comer:
I knew Sallie in high school through our mutual friend Mary Ann (Kyles) Ingram and reconnected with her in 2006. We exchanged a lot of emails, and I got to see Sallie several times when I was visiting the Garner area, plus once when we coordinated trips to Charlotte to see Mary Ann for a little reunion of our own. She was definitely still the same Sallie—spunky, always smiling, full of life and good cheer, bright and quick-witted. And still adorably cute! I know she loved animals and had many pets, loved country music (she mentioned Tim McGraw a lot), and enjoyed some travel including a trip to the Holy Lands recently. Sallie had a heart even bigger than those huge brown eyes of hers, and went out of her way to do kind things for others. I am sure she touched many lives in her 44 years, and she will be sorely missed. I feel privileged to have been among those that knew her.
Tina Hunt Canfield:
I remember Sallie as far back as elementary school and how she was always willing to do anything for anybody. She embodied all of the character traits that we would want in our very best friend. She will be missed. Thanks for taking the time to honor her memory.
Donna Wilkinson Hardin:
Long before there was a "do not call list" for telemarketers or caller ID in every home, Sallie had figured out a way to spot and avoid unsolicited phone calls. She and Tim decided to put their home phone number in their dog's name-Eric (I think). That way when someone called and asked for Eric, they could say he was not there and immediately recognize the call as a telemarketer and hang up. Sallie had a huge heart and she was really a giver in the world or at least her neighborhood. She always cooked cakes & food to take to the older neighbors. I know the guy that now lives across the street from her and he said she was wonderful to him after he had surgery last year. She filled his fridge and cooked dinners for him every night.
Lori Poole Townsend:
My favorite memory of Sallie is when she and I had Mabel Jones for Pre-Algebra at East Garner. We sat right beside each other. If it wasn't for Sallie I would never had passed that class. Not only did she tutor me in math but she also kept me in stock with notebook paper and "sea-n-ski" chap stick. I will never forget her gentle smile.
John Denis:
I had the pleasure of knowing Sallie for the last thirty years. She was always there through thick and thin. She always had a smile and the kindness of heart that is so very rare. She was a dear close friend that has touched my heart as she did so many people. I will always remember her bright eyes and quick wit and her constant smile. She always left a heart-lifting impression on everyone she met. She was truly one of a kind. I will forever honor her memory.
IF YOU WOULD LIKE TO HAVE YOUR COMMENTS ADDED: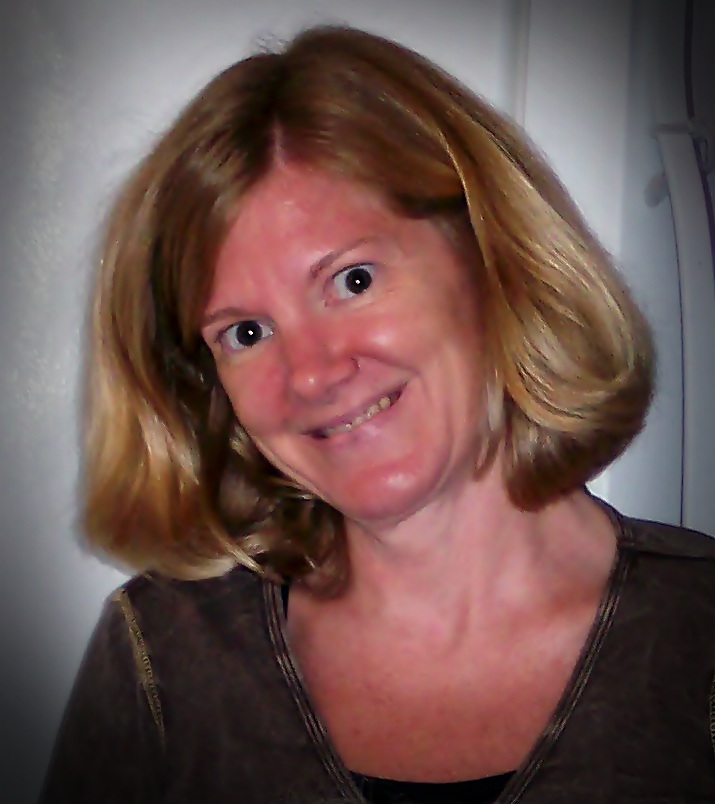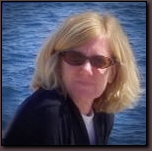 December 2007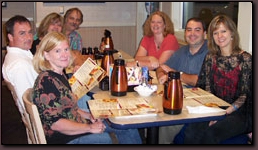 (click to enlarge)
October 2007 - Pictured clockwise from front left: Sallie, husband Tim, Karen and John Denis, Donna Jones Combs, Chip Kyles, Tracy Jane Rowe Comer
IF YOU WOULD LIKE TO HAVE YOUR COMMENTS ADDED OR HAVE PHOTOS TO SHARE: