The following article was prepared by Sherry O'Neal for the Garner Citizen and appeared on the front page on June 4, 2008. (Thanks, Sherry!)
[CLICK HERE to view/download a scanned copy of the article as it appeared in the paper.]
For members of the Garner Senior High School Class of 1981, Sallie Jordan Rohrbach was much more than "a state worker" who was the victim of a tragic murder in Charlotte.
Several class members stepped up with stories about Sallie's life and to better explain who Sallie was to honor her memory.
Tina Hunt Canfield says she remembers "Sallie as far back as elementary school and how she was always willing to do anything for anybody. She embodied all of the character traits that we would want in our very best friend."
Tommy Stancil, who grew up in the same area as Sallie and had a lot of the same friends in school, remembers five to eight people who would pile into a car to go off-campus for lunch. "I had not seen her [Sallie] in a few years, but my heart just sank when I found out it was her." She had a quick humor and will be missed, he adds.
Randy Blalock, who rode the same school bus with Sallie for years, remembers when she first started school and the bus stop was in front of his house. He remembers she was a tiny blonde who was smiling and says as a senior she had the same smile.
Back at East Garner, Lori Poole Townsend credits Sallie with helping her pass Pre-Algebra in Mabel Jones' class. Lori said Sallie sat right beside her and always kept her in stock with notebook paper, "sea-n-ski" chapstick and tutored her in math as well.
Tracy Rowe Comer, who now lives in Wisconsin, had reconnected with Sallie in 2006 and says "she was definitely still the same Sallie- spunky, always smiling, full of life and good cheer, bright and quick-witted. I know she loved animals and had many pets, loved country music and enjoyed travel. Sallie had a heart even bigger than those huge brown eyes of hers, and went out of her way to do kind things for others. I am sure she touched many lives in her 44 years."
A former neighbor Donna Wilkinson Hardin remembers that long before there was a Do Not Call List for telemarketers or caller ID in every home, Sallie had figured out a way to spot and avoid unsolicited phone calls. She and Tim decided to put their home phone number in their dog's name so that way when someone called and asked for the dog, they could say he was not there and immediately recognize the call as a telemarketer. "She had a huge heart and she was really a giver in the world or at least her neighborhood."
For close friends, Sallie's presence will be sorely missed. In fact, the Wednesday night that she went missing, she was expected to visit another classmate, Mary Ann Kyles Ingram, who lives near Charlotte with her husband J.W. and their six children. J.W. Ingram writes that he first met Sallie more than 20 years ago. His best memories are not from 20 years ago but from the past year. He says that several times during the past year Sallie would visit when she was in Monroe for work. Most times she would bring them supper. "She would usually bring in pizza in one hand and diet Pepsi in the other. She had a smile that would light up the room with an easygoing demeanor that put people at ease. And our children adored her."
Ingram adds, "The Insurance Department and the State of North Caroline should be proud to have an employee this dedicated and professional working for the citizens of this state and not in private business. To most of Charlotte she was an insurance auditor from Raleigh that went missing and turned up murdered. But we knew her, and remember her, not as a victim of senseless crime or a murder statistic or just another sad and heartbreaking news story. We remember her as our friend and we will miss her very much."
Classmate Donna Jones Combs shared this quotation by Mother Teresa, "Kind words can be short and easy to speak, but their echoes are truly endless." She adds, "The thing I remember most about Sallie was her warm heart to creatures great and small and her bubbly, upbeat personality. In her presence, the negativity of the world in general melted away into a calmness."
Sallie always had a smile and hello for everyone. She will be missed.
[CLICK HERE to view/download a scanned copy of
this article as it appeared in the GARNER CITIZEN.]
(Comments by classmates have been contributed since this article was written,
so please see the comments page for more.)
In memory of Sallie, contributions may be made to SPCA of Wake County, 200 Pet Finder Lane, Raleigh, NC 27603 or Gateway Church Building Fund, P.O. Box 846. Fuquay-Varina, NC 27526.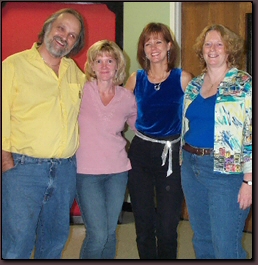 (click to enlarge)
Pictured in August 2006 (shortly before the 25th reunion of the GSHS Class of 1981) are John Denis, Sallie, Tracy Jane (Rowe) Comer, and Donna (Jones) Combs
RELATED LINKS: