News
Most news is posted via FACEBOOK these days...We encourage all classmates to stay in touch by participating in the Facebook group!
11/30/2017: Our classmate Dan Rayle has passed away from a heart attack on Monday, 11/27/2017. His memorial service will be Tuesday, 12/05/17, at 11 am. Location is Victory Church, 2825 S. Wilmington St., Raleigh NC. His sister Pat welcomes any & all of Dan's friends & classmates in celebrating his life.
11/30/2017: Sympathies to our classmate Beverly Seagroves Wilson whose mother passed away earlier this week.
10/21/16: Our condolences to classmate Robert Stanley on the death of his mother.
9/27/2016: Adance registration for the 35th reunion is now closed, but you can still attend and pay at the door. See the reunion page for details.
12/16/2015: 35th Reunion date announced! It will be held on Saturday, October 1, 2016. Click here for ongoing details.
4/8/2014: Classmate Kimberly Bullock Britt has passed away. See the obituary here. Our deepest sympathies to her family.
4/10/2013: Many of you may know that Mack Woodlief's dad has been sick for a while. He passed last week. Many of us remember Mr. Woodlief's big personality and love of bowling!! Please keep the family in your prayers. Obituary
1/16/2013: We have lost three classmates in recent months.
Sheila Duell Mitchell (Sept. 2012)
Robyn West Farmer (Nov. 2012)
Greg Carlisle (Jan. 2013)
See the Memorial page for a listing of classmates who have passed. There is now a blog space that has been set up for our class members to post remembrances - click here for that blog.

9/18/2011: The class of '81 will have group seating at the homecoming football game (Trojans v. East Wake) on September 23. Join the Facebook group (link at left) to see the discussion and get in on the fun!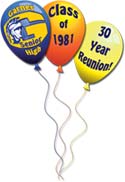 9/18/2011: Click here to view the slideshow that David Cawthorn put together for the 30th reunion! (It will only be posted for a little while, so watch now!)
AND - click here for a new page that has been started to hold reunion group photos.
9/16/2011: Great Article in Garner News about our Reunion! See this link:
http://garnernews.net/view/full_story/15501138/article-Class-of-1981-rocks-through-hurricane?
9/14/2011: The 30th reunion was a great success! Thanks to all who came, and to Sherry O'Neal and the planning committee!
6/21/2011: Registration for our 30th reunion is underway!!! The event is open to classes '79 through '83 and also to teachers. (Teachers will get in free!) Deadline is fast approaching...Click here!

3/16/2011: Reunion details and registration are now available: You can register online (with PayPal) or download and print materials. Click here!

2/2/2011: See the REUNION page for reunion news!
Other news: For the best and most timely info, please join the official Facebook group, subscribe to our blog, or follow us on Twitter! (Links at left.) News will always show up in those areas first. This page may not contain all the news that you want to see, so please visit the associated links!
Here's a widget with the latest from our tweets:
Click here for some archived news.